Navigating the world of invoices can be daunting. One area of confusion is distinguishing between financial and commercial invoices. While they may seem similar, they actually play different roles in finance and commerce. In order to effectively manage your business operations, it's crucial to understand the differences between them and their implications. Let's explore the key distinctions between financial and commercial invoices (known as regular ones).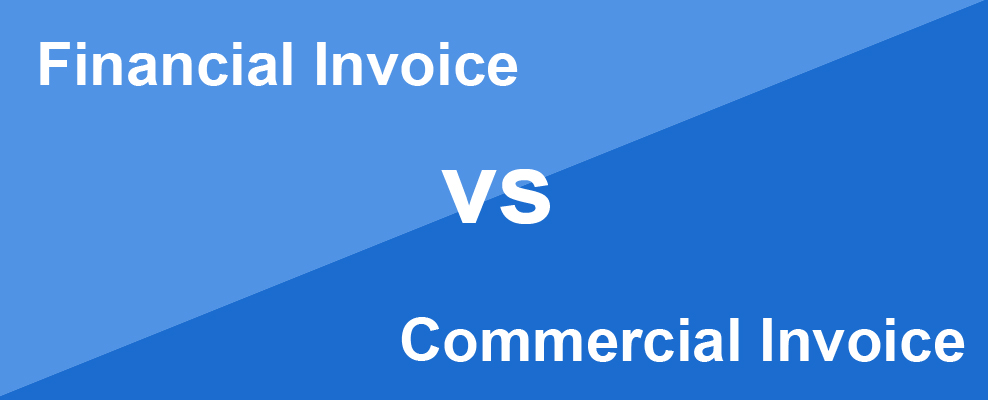 What Is A Financial Invoice?
A financial invoice is an essential billing document that sellers issue to buyers once goods or services have been delivered, but payment has not yet been received. It provides crucial information about the transaction, such as the cost of goods or services, payment terms, and other financial details.
Key Elements of a Financial Invoice
Issuer Details: The seller's name, address, and contact information.
Buyer's Details: The purchaser's name, address, and contact details.
Invoice Number: A unique identifier for the invoice. (more info about what is invoice number)
Date: The date when the invoice was issued.
Description of Goods/Services: Detailed description of the goods or services provided.
Payment Terms: The terms and conditions relating to payment.
Total Amount Due: The total cost that the buyer owes the seller.
What Is A Commercial Invoice?
The commercial invoice serves as a formal agreement between supplier and customer, outlining the specifics of sold goods and total amount due. In international trade, it holds immense importance for its numerous functions including record-keeping, facilitating customs procedures, and determining the value of goods for customs duties assessment. Its crucial role makes it an essential document for all businesses involved in cross-border transactions.
Key Elements of a Commercial Invoice
Seller and Buyer Information: Details of both the seller and the buyer.
Invoice Number and Date: Unique identifier and date of issue.
Description of Goods: Detailed explanation of the sold goods.
Quantity of Goods: The amount of the goods sold.
Price per Unit: The cost of each unit sold.
Total Amount Due: The total amount the buyer owes to the seller.
Shipping Details: Information about the shipment, such as the method and date of shipment.
Country of Origin: The country where the goods were produced.
HS Code: The Harmonized System Code for the products, used for customs purposes.
Financial Invoice vs Commercial Invoice: A Comparative Analysis
In the table below, we provide a direct comparison between the two types of invoices based on their purpose, usage, and content:

| | Financial Invoice | Commercial Invoice |
| --- | --- | --- |
| Purpose | To request payment for goods or services delivered. | To provide a record of the transaction and to determine duties and taxes. |
| Usage | Used domestically and internationally for billing purposes. | Primarily used in international trade for customs clearance. |
| Content | Contains financial details about the transaction. | Contains detailed information about the goods, shipping, and customs-related data. |
Pros and Cons of Financial and Commercial Invoices
Like any business document, bofinancial and commercial invoices have vantages and disadvantages.
Financial Invoice Pros and Cons
| | Pros | Cons |
| --- | --- | --- |
| Financial Invoice | Straightforward in its financial intent, Can be used both domestically and internationally, Provides clear payment terms and conditions | Lacks details on the physical aspects of goods, Not suitable for customs clearance |
Commercial Invoice Pros and Cons
| | Pros | Cons |
| --- | --- | --- |
| Commercial Invoice | Provides comprehensive details about the transaction, Essential for international trade, Used for customs clearance and determining duties | More complex to create due to its extensive details, Primarily for international trade, less suitable for domestic transactions |
Verdict
It is essential to comprehend the contrast between financial and commercial invoices in the realm of business. Despite the initial similarities, they serve distinct purposes tailored to various business requirements.
It is worth noting that a financial invoice surpasses a mere bill, as it serves as a crucial business document that is utilized for recording transactions and requesting payments. Alternatively, a commercial invoice is a legal document in international trade that offers a comprehensive account of goods and is utilized for customs clearance.

Ultimately, whether you need a financial or commercial invoice will depend on the nature of your transaction. For domestic and straightforward financial transactions, a financial invoice should suffice. A commercial invoice is a must for international trades, particularly those involving customs.